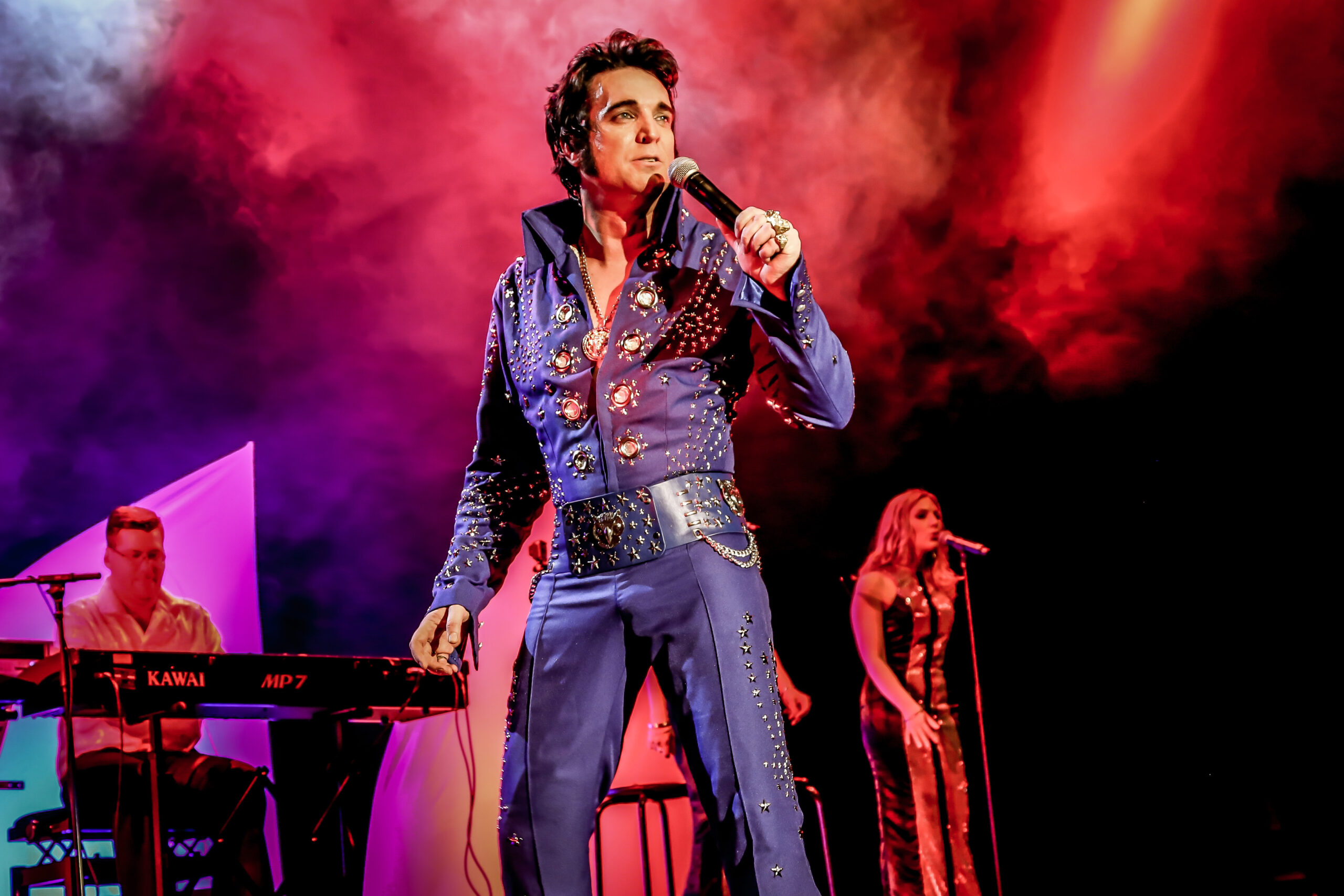 10. Dezember 2022

| 20:00–22:00 Uhr
Viva Las Vegas! Elvis lebt! Nils Strassburg, von Time Warner New York zum besten Elvis-Interpreten Deutschlands gekürt, und seine Band The Roll Agents nehmen das Publikum mit auf einen Trip in die schillernd bunte Weihnachtswunderwelt des Spielerparadieses in der amerikanischen Wüste. In "ELVIS – Las Vegas Christmas Show" bringen
sie mit den Welthits des Kings of Rock 'n' Roll den Saal zum Kochen und streuen mit Gospels und Weihnachtsklassikern wie "White Christmas", "Santa Claus is back in town" oder "Winter Wonderland" Glitzer und Glitter darüber. Wie in Elvis Presleys legendären Shows der 70er Jahre gehen Nils Strassburg und die Roll Agents auf Tuchfühlung mit dem Publikum, versprühen Charme und Humor und pumpen musikalische Energie in den Zuschauerraum, bis am Rüschenkragen der Schweiß heruntertropft. It's Christmas Time in Las Vegas!
Über eine Milliarde verkaufte Tonträger sowie unzählige Konzert- und Kinoerfolge machten Elvis Presley bereits zu Lebzeiten zum Mythos. Seine Liveperformance und Songs treffend wiederzugeben, scheint beinahe unmöglich – es sei denn, man gehört zu den zehn Musikern von The Roll Agents. Dann ist man Teil einer Show, die das
Publikum begeistert und die Kritiker schwärmen lässt von "Gänsehautfeeling" und davon, dass "der König lebt". Nils Strassburg ist – trotz schillerndem Jumpsuit, schwarzer Koteletten und seiner emotionsgeladenen Stimme – nicht einfach eine Kopie, sondern interpretiert Elvis Presley auf atemberaubend persönliche, zeitgemäße Weise und lässt so das Elvis-Feeling wieder aufleben. Mitreißender und bewegender kann eine Hommage an den erfolgreichsten Musiker aller Zeiten nicht sein. You'll be all shook up!
Fotos © Dominic Pencz, Nico Deeg
| | |
| --- | --- |
| Veranstalter | FILharmonie Filderstadt |
| Preis | 33 € / 29 € / Junges Publikum 10 € |
| VVK | In unserer VVK-Stelle Kartenservice im i-punkt erhalten Sie Karten für alle Veranstaltungen in der FILharmonie sowie bei allen Easy Ticket Service-VVK-Stellen. |